Our web site is new!! Its now easier to access all of our information from your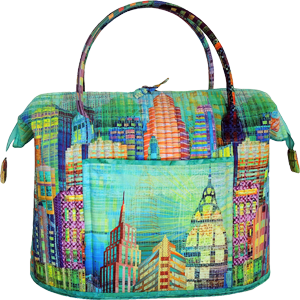 mobile devices.
People ask, "Where do you get your ideas?" I really don't know. They sometimes come to me at 2 or 3 am. That's when "The Committee" is in session in my head. (I'm sure that many of you can relate!) Sometimes ideas come from others who have seen or worked with my techniques. Sometimes one idea morphs into something completely different!
We continue to make videos on our techniques and on specific pattern instructions. Go to the "Tips, Videos & Oops" page. Scroll down to see videos listed by pattern.
"The Committee" has also been busy this year. See the "Patterns" page for our new offerings. They are listed first. Also, look for the videos associated with each pattern!! Go to the "Tips, Videos" page on this website; scroll down to the pattern (listed numerically) and click on the video links. If you have a smartphone with a QR code reader app, you can also access videos directly from some patterns. Just focus your phone on the QR code and a video will pop up!
For 2021, with the virus keeping us home, we have added the following new patterns:
AT637 Boxing It Up – Very stiff boxes made with both CrafTex Plus and In-R-Form Plus from Bosal. Instructions include directions for 4 sizes: 6″ Cube, Charm Square Box, Pattern Box, and a Flat Gift Box. Be sure to watch the videos!!
AT645 Weekend Duffle – Really large zipper top bag in two sizes: Short and Tall. Add a luggage strap to the tall size, place it on a luggage carrier and off you go! Includes two structural stays.
AT646 Metal Stays Size A – use with your 2nd (or 3rd or 4th…) Weekend Duffle. 30″ long and pre-bent at the ends.  Look for more bags using these 30″ in 2022 and beyond!
AT656 Lidded Pincushion -4″ round covered pinchusion!  Great for hiding your pins when company comes. Also wonderful for traveling!
AT653 Woven Felt Tote – Uses Bosal's die cut felt kit. Felt is a strong, composite felt which creates a sturdy woven bag.
It's STORAGE TIME!!
AT660 Covered Round Crates
AT661 Covered Oval Crates
AT662 Covered Rectangular Crates
All pattern instructions for the above CRATES include directions for three sizes.  These stack and nest!!! Use a gradient fabric for a coordinated set of three.
What's Up Next:
Braided Rug – using 2 1/2″ fabric strips.
Open File Boxes – yes we are still trying to organize!!
Crosshatch Quilted Bags and Pillows – quilted on the diagonal!!
More  bags using 2 1/2″ strips – we still love this technique!!
Sooo many ideas and so little time!!