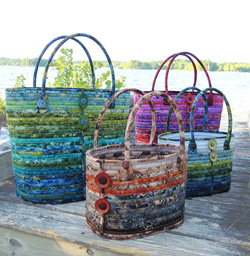 Our web site is new!! Its now easier to access all of our information from your mobile devices.
People ask, "Where do you get your ideas?" I really don't know. They sometimes come to me at 2 or 3 am. That's when "The Committee" is in session in my head. (I'm sure that many of you can relate!) Sometimes ideas come from others who have seen or worked with my techniques. Sometimes one idea morphs into something completely different!
We continue to make videos on our techniques and on specific pattern instructions. Go to the "Tips, Videos & Oops" page. Scroll down to see videos listed by pattern.
"The Committee" has also been busy this year. See the "Patterns" page for our new offerings. They are listed first. Also, look for the videos associated with each pattern!! If you have a smartphone with a QR code reader app, you can access these videos directly from the pattern. Just focus your phone on the QR code and a video will pop up! Or go to the "Tips, Videos" page on this website; scroll down to the pattern (listed numerically) and click on the video links.
For 2016, new patterns included:
AT277 - Festive Pumpkins in three sizes - get ready for fall
AT601 - Bar Harbor Tote a woven bag in two sizes
AT602 - Sleigh-Full Christmas sleigh wonderful decorative accessory for candy or cards!
AT603 - Our Cat's Home a cat bed using Bosal's new dog & cat bed foam forms
AT607 - Rockport Baskets & AT609 Rockport Totes Like the look of zigzag stitched tubes but not the work? Check out the first two patterns in the Rockport series!!
AT604 - Baby Buggy great for baby showers!
AT608 - Twenty Strip Tote perfect for those new twenty strip fabric packs!
AT611 - Floor Tiles softly quilted tiles sewn together to add color to your floor
AT612 - Mini Bags - Gift card bags or bag ornaments for the bag lovers in your family or group of friends
For 2017, we will be working on:
Keep the Lights On  - great night light in the form of a house
Wine and Dine placemats and wine carrier
Additional Rockport series patterns - whole cloth channel stitched projects
Sooo many ideas and so little time!!